Logistics Division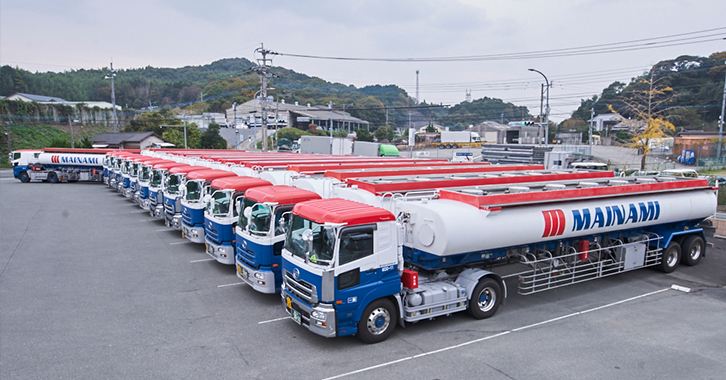 Through contracts with major petroleum suppliers, Fukuoka Fuel Logistics and Osaka Fuel Logistics ensure timely deliveries of fuel to major airports in western Japan. Using large tanker trucks, these Mainami Group companies transport fuel from their clients'refineries and storage facilities to airports in Kyushu, including those at Fukuoka, Kita-Kyushu, Miyazaki, Kumamoto and Kagoshima, and throughout the Kansai region, including stops at the major airports of Osaka, Nagoya and Hiroshima.
Safety is paramount in trucking operations. An insignificant incident may not only trigger a major accident but may compromise the very trust in an aircraft. Thus, the Logistics Division makes every effort to uphold its reputation for safety and reliability. Fuel quality is also important, and strict quality control permeates the operations of these two transportation companies. Both companies continue to extend their record of accident-free performance and thus enjoy the high regard of the petroleum suppliers they serve.
Fukuoka Fuel Logistics Co., Ltd.
Operations:

Transport by tanker truck of petroleum products, principally aviation fuel

Head Office and Fukuoka Office:

2304-2, Hidariya, Tachibanaguchi, Shingu, Kasuya-gun, Fukuoka 811-0102, Japan

Tel: 092-962-2342
Fax: 092-962-2986

Tokyo Office:

3rd Floor, Hillcrest 373, 7-8, Moto-Akasaka 1-chome, Minato-ku, Tokyo 107-0051, Japan

Tel: 03-3796-6630
Fax: 03-5772-3784

Kagoshima Office:

1-5-5, Taniyamako, Kagoshima, Kagoshima 891-0131, Japan

Tel: 099-263-0757
Fax: 099-263-0757 (same as tel.)
Osaka Fuel Logistics Co., Ltd.
Operations:

Transport by tanker truck of petroleum products, principally aviation fuel

Head Office:

3rd Floor, Hillcrest 373, 7-8, Moto-Akasaka 1-chome, Minato-ku, Tokyo 107-0051, Japan

Tel: 03-3796-6631
Fax: 03-5772-3784

Osaka Office:

2-222-1, Toyoshima Minami, Ikeda, Osaka 563-0035, Japan

Tel: 072-762-1925
Fax: 072-762-0298