Information and Publishing Division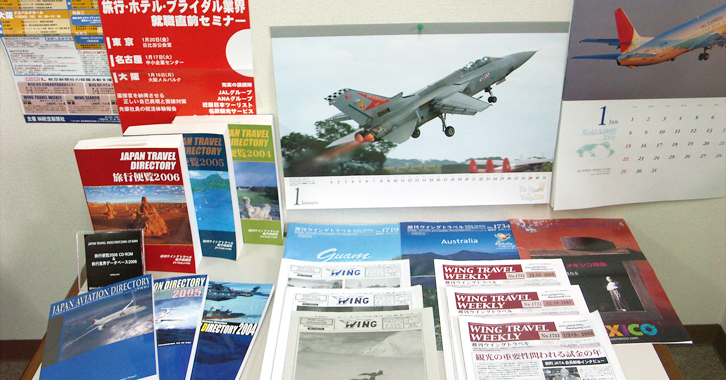 The return of the airline industry in Japan following the close of World War II required a specialized publication featuring fast, accurate news on the domestic and international airline industries. In 1957, a weekly aviation-related trade paper, Wing, began publication. Since then, Wing has covered a wide range of topics concerning the Ministry of Defense and aerospace industries as well as the commercial aviation industry.
It has had a significant influence on the aviation industry, and it continues to forge a path as one of Japan's leading weekly aviation and aerospace publications.
In 1969, Wing Travel Weekly, a publication focusing on the overseas-travel industry, made its debut. Circulation of Wing Travel Weekly skyrocketed as the travel industry in Japan rapidly grew in conjunction with the fast rising number of travelers to overseas destinations, to cement its reputation as one of the industry's leading publications. The publisher also actively pursues related business opportunities, including the organizing of travel industry seminars and travel career seminars, in addition to publishing Japan Aviation Directory, a travel industry directory, and other publications.
In 1980, the Mainami Group acquired a stake in Wing Aviation Press, the publisher of Wing and Wing Travel Weekly. Since then, the Group has supported the publications' open nature and their social mission. The Group also oversees publication of calendars that feature military aircraft and airliners, which are popular with aviation enthusiasts, as well as those that feature warships and more.
Wing Aviation Press Co., Ltd.
Operations:

Publishing and sales of newspapers, magazines and books related to aviation and the overseas travel industry, including Wing and Wing Travel Weekly; planning and holding of seminars related to the aviation industry and the travel industry

Head Office:

3rd Floor, Akasaka Yoko-Building, 8-6, Akasaka 4-chome, Minato-ku, Tokyo 107-0052, Japan

Tel:03-3796-6644 (main)
Fax: 03-3796-6648

Tel: 03-3796-6647 (Wing Editorial Dept.)
Fax: 03-3796-6643

Tel: 03-3796-6646 (Wing Travel Editorial Dept.)
Fax: 03-3796-6645