Aviation Division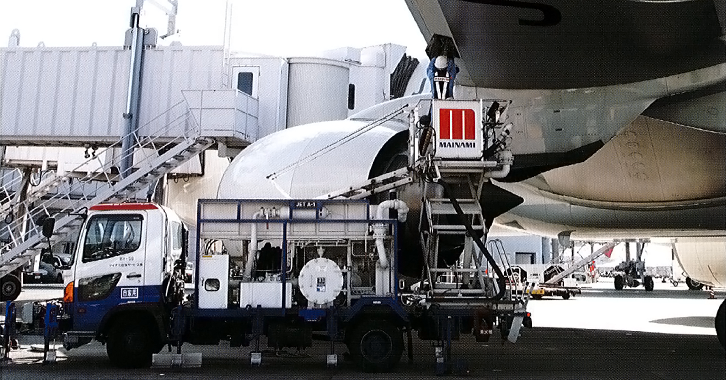 The efforts of a great many people are needed to maintain the complex mechanisms of aircraft and to ensure flight safety and reliability. While pilots and flight attendants receive the limelight, huge teams of ground crews work out of the passengers' sight. The Aviation Division of the Mainami Group is one of the behind-the-scenes support teams that keep aircraft moving.
The Division got its start in 1953, as a pioneer in Japan's aviation fuel supply business. Back then, the nation was emerging from the chaos immediately following the close of World War II, and the people were anxiously awaiting a more convenient, comfortable lifestyle that they hoped democracy would foster.
Right after the war, the economy was weak, and the foundations on which private airlines were to rebuild their operations were fragile. Management of the young Mainami Trading decided the best way to enter the airplane refueling business was as an agent of then- Shell Sekiyu.
In the 1960s, private airlines began to prosper as general affluence allowed more people to travel by air. Demand for the Aviation Division's services grew in tandem with expanding interest in air travel, and Mainami Trading established offices at regional airports, beginning with those at Osaka (Itami) and Fukuoka (Itazuke). Later, operating under the name Mainami Aviation Services the company extended its activities to airports and heliports throughout the nation.
Today, members of the Aviation Division provide airplane refueling services at 39 airports in Japan, including Narita International Airport , Tokyo International Airport at Haneda, Chubu Centrair Airport, Osaka Airport at Itami, Kansai International Airport and Fukuoka Airport. The Division's clients include Japan's major carriers—Japan Airlines and All Nippon Airways—in addition to foreign carriers landing in Japan.
From large airplanes to irregularly scheduled aircraft, such as helicopters and small airplanes, the Aviation Division of the Mainami Group is ready to serve.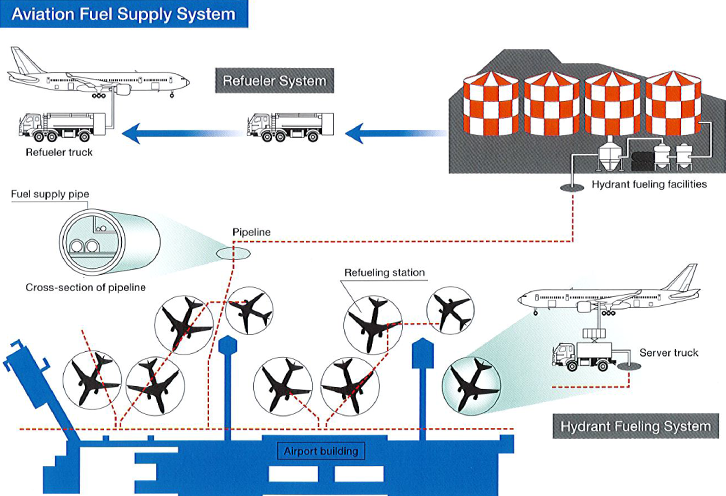 In recounting the Aviation Division's history, the Hydrant Fueling System developed by Fukuoka Fuel Facilities and Osaka Hydrant must not be overlooked. This highly reliable system, with its underground pipelines, allows service personnel to pump fuel directly from main tanks, located on-site, to aircraft through server trucks. The Hydrant Fueling System ensures maximum levels of safety and fuel purity, and, compared with other methods, is faster in supplying large amounts of fuel.
As a result of its excellent reputation, Osaka Hydrant was selected to supply fuel to aircraft at Kansai International Airport, which opened in September 1994. Osaka Hydrant also has a presence at the airport through its stake in KIA Fueling Service, a venture to maintain and operate the airport's hydrant facilities. Osaka Hydrant has provided personnel for this venture as well as capital.
General aviation support service is a key element of the Division, assisting high-powered VIPs from around the world. The Division is entrusted to handle flight authorization for corporate jets, private airplanes, governmental aircraft of foreign nations, chartered airplanes, special large cargo carriers and such that are used by VIPs flying around the world, including the top management of multinational corporations, business entrepreneurs and Hollywood stars. The service covers everything from incoming-flight formalities to refueling, cargo handling and maintenance. The fine service even extends to sightseeing arrangements and delivery of souvenirs. It is offered at Narita International Airport, Kansai International Airport, Chubu Centrair Airport and other airports in Japan.
Mainami Aviation Services also sells and exports aviation products as part of the general services that they provide to airlines.
Fukuoka Fuel Facilities and Mainami Aviation Services have been building high-quality systems for airplane refueling and storage of aviation fuel. Since April 2004, the Group companies and the head office have received ISO9001 certification in succession.
From refinery to flight, the Mainami Group is the name to remember for total aircraft refueling services. Capitalizing on years of experience in fuel distribution and storage, operation of hydrant fueling systems and speedy, careful refueling services, the Aviation Division is able to guarantee the ultimate in reliability.
Fukuoka Fuel Facilities Co., Ltd.
Operations:

Operation of hydrant fueling facilities at Fukuoka Airport as well as storage, supply and sales of aviation fuel at Fukuoka Airport; sales of general petroleum products; bonded storage and customs clearance agency of export and import cargoes; vehicle maintenance; real estate leasing and management 

Head Office:

5th Floor, Hillcrest 373, 7-8, Moto-Akasaka 1-chome, Minato-ku, Tokyo 107-0051, Japan
Tel: 03-3796-6611 (General Affairs Dept.)
Fax: 03-3796-6614 (all dept.)

Tel: 03-3796-6612 (Accounting Dept.)
Tel: 03-3796-6613 (Sales Dept.)

Fukuoka Airport Office:

Fukuoka Airport, 457-1, Aoki, Hakata-ku, Fukuoka, Fukuoka 812-0851, Japan
Tel: 092-621-3431 (main)

Fax: 092-621-3433 (all dept.)
Tel: 092-621-0118 (Vehicle Maintenance Dept.)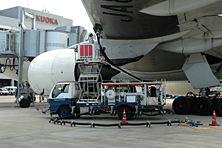 Osaka Hydrant Co., Ltd. 
Operations:

Operation of hydrant fueling facilities at Osaka International Airport as well as storage and supply of aviation fuel at Osaka International Airport; other related activities

Head Office:

4th Floor, Hillcrest 373, 7-8, Moto-Akasaka 1-chome, Minato-ku, Tokyo 107-0051, Japan

Tel: 03-3796-6622 (main)
Fax: 03-3796-6625 (all dept.)

Tel: 03-3796-6624 (Sales Dept.)

Airport Office:

Osaka International Airport, 320, Kuragaichi, Nishi- Kuwazu, Itami, Hyogo 664-0834, Japan

Tel: 06-6855-1031 (main)
Fax: 06-6855-1034
Mainami Aviation Services Co., Ltd.
Operations:

Airplane refueling services, sales of aviation-related petroleum products and management of aviation fuel facilities at major airports in Japan; bonded handling of aviation fuel; aviation-related customs clearance; general aviation support services; sales of aviation-related machinery; vehicle maintenance

Head Office:

4th Floor, Hillcrest 373, 7-8, Moto-Akasaka 1-chome, Minato-ku, Tokyo 107-0051, Japan

Tel: 03-3796-6632 (main)
Fax: 03-3796-6636 (all dept.)

Tel: 03-3796-6633 (General Affairs Dept.)
Tel: 03-3796-6634 (Sales Dept.)
Tel: 0476-34-8647 (Aviation Support Services Dept.)
Tel: 03-3796-6605 (Avionics Dept.)
Tel: 03-3796-6607 (Facilities Management Dept.)
Tel: 03-3796-6635 (Safety Management Dept.)
Tel: 03-5756-6080 (Vehicle Maintenance Dept.)

Narita Office:

No. 2 Passenger Terminal Building, Narita International Airport, Narita, Chiba 282-0004, Japan

Tel: 0476-34-8820
Fax: 0476-34-8661

Tel: 0476-32-6901 (Refueling Dept.)
Fax: 0476-32-6902

Haneda Office:

No. 1 Passenger Terminal Building, 3-3-2, Haneda Kuko, Ota-ku, Tokyo 144-0041, Japan

Tel: 03-5757-9053
Fax: 03-5757-9058 (all dept.)

Tel: 0476-32-6901 (Refueling Dept.)
Fax: 0476-32-6902

Tel: 03-5757-9055 (Refueling Dept.)
Tel: 03-5757-6080 (Maintenance Dept.)
Fax: 03-5756-0159

Tokyo Office:

Tokyo Heliport, 4-7-6, Shinkiba, Koto-ku, Tokyo 136- 0082, Japan

Tel: 03-3521-0340
Fax: 03-3521-2532

Nagoya Office:

4520 Norifusa, Aoyama, Toyoyama-cho, Nishi- Kasugai-gun, Aichi 480-0201, Japan

Tel: 0568-28-1012
Fax: 0568-28-2898
Tel: 0568-29-1031 (POL) (all dept.)

Chubu Office:

Passenger Terminal Building, Chubu Centrair International Airport, 1-1 Centrair, Tokoname, Aichi 479-0881, Japan

Tel: 0569-38-8373
Fax: 0569-38-8375

Tel: 0569-38-8374 (Refueling Dept.)
Fax: 0569-38-8376

Osaka Office:

Osaka International Airport, 29 Kabatake, Osakaden, Itami, Hyogo 664-0000, Japan

Tel: 06-6843-5711
Fax: 06-6843-8800

Tel: 06-6843-3850 (Refueling Dept.)
Fax: 06-6840-9523

Kansai Airport Office:

2nd Floor, South Airline Building, Kansai International Airport, 1, Senshu Kuko Naka, Tajiri, Sennan-gun, Osaka 549-0011, Japan

Tel: 072-456-6221
Fax: 072-456-6223

Tel: 072-456-6225 (Refueling Dept.)
Fax: 072-456-6227

Yao Office:

Yao Airport, 2-12, Kuko, Yao, Osaka 581-0043, Japan

Tel: 072-922-7223
Fax: 072-994-4934

Hiroshima Office:

Hiroshima Airport, 94-22, Zennyu-ji, Hongo, Mihara, Hiroshima 729-0416, Japan

Tel: 0848-86-9057
Fax: 0848-86-9058

Tel: 06-6843-3850 (Refueling Dept.)
Fax: 06-6840-9523

Nishi-Hiroshima Office:

Hiroshima-Nishi Airport, 4-10-82, Kannon-Shinmachi, Nishi-ku, Hiroshima, Hiroshima 733-0036, Japan

Tel: 082-234-6145
Fax: 082-291-6314

New Chitose Office:

2nd floor, Terminal Building Annex, New Chitose Airport, 987-22, Bibi, Chitose, Hokkaido 066-0012, Japan

Tel: 0123-45-1150
Fax: 0123-45-1155

Fukuoka Office:

c/o Fukuoka Fuel Facilities Co., Ltd., Fukuoka Airport, 457-1, Aoki, Hakata-ku, Fukuoka, Fukuoka 812-0851, Japan

Tel: 092-621-3431
Fax: 092-621-3433